2021 Virtual CF Summer Retreat
Thursday, August 19 – Sunday, August 22, 2021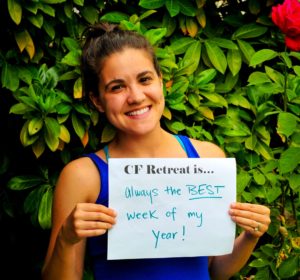 CFRI's annual CF Summer Retreat will take place from Thursday, August 19, to Sunday, August 22, 2021.
The Retreat was created to enhance education, positive coping skills, and social support for people who share common experiences with CF. Due to the pandemic, the retreat will be fully virtual, and will include educational presentations by CF experts and special guests, as well as daily exercise, arts and crafts, support group sessions, and more.
Registration is required. Before the event, we will send you a link to join, a detailed schedule, and a welcome care package.
"I sometimes have a really hard time imagining myself what's possible in my life. I really rely on my peers to show me that things are possible,. Moving across the world. Getting a master's degree. Having children. A lot of this stuff, I just don't think I would have ever imagined if I didn't meet other people at this Retreat that are doing it and doing it so well. I'm so grateful I got to attend this year, and I'm definitely going to attend next year, and every other time I'm able because it's just…I don't know, I don't have the words. Just such an incredible experience."
Amy
Adult with CF, 39, Los Angeles
The Virtual CF Summer Retreat is generously sponsored to date by Vertex Pharmaceuticals, AbbVie and Gilead Sciences.
Embrace: A Virtual Retreat for Mothers of Children & Adults with CF
Saturday, May 1, 2021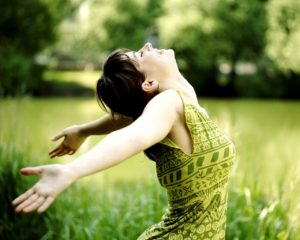 CFRI's 7th annual Embrace Mothers Retreat will take place virtually on Saturday, May 1, 2021. Through art workshops, yoga, journaling, CF resources, and respite time, the retreat offers an opportunity for women who share the CF path to connect and rejuvenate.
There will be two shorter preparatory workshops on Saturday, April 17 and Saturday, April 24. Space is limited to 30 women. All art, journaling and other supplies will be sent in advance, and there is no charge to attend.
CFRI hosts this annual retreat for mothers of children & adults diagnosed with cystic fibrosis, in recognition of the vital role that mothers have in the care of their loved ones. Studies show that mothers of children with cystic fibrosis have extremely high rates of anxiety and depression, and that this may have a direct impact on their children's adherence to their medical regimen.
The Embrace Retreat is fully booked at this point. Please email Sabine Brants (sbrants@cfri.org) to be placed on our wait list.
"This retreat was life changing! It is so wonderful to be with other women who understand the challenges we face raising our children with CF." Mother of an adult daughter with CF
Embrace Retreat is made possible to date through grants from Vertex Pharmaceuticals, AbbVie, and Gilead Sciences.