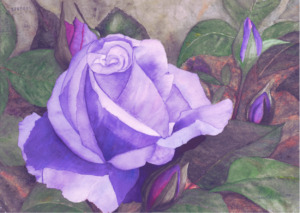 Please support hope this Mother's Day and beyond!
CFRI's annual Mother's Day Celebration promotes awareness of CF among our friends and families, and is one of our most important fundraisers to support CF research and services. To participate, we provide you with beautiful cards to send your friends and family (or you can easily do this online), inviting them to help improve the quality of life and health of those living with cystic fibrosis.
The artwork on this year's card was painted by Wanda Olson, mother to Michele, who passed away from CF complications at the age of 33. Wanda is creating 65 rose paintings in Michele's memory. This is the 33rd painting in the series, featuring her beloved daughter's favorite – a Sterling Silver rose.
To set up a fundraiser online, click here.
To set up a fundraiser on Facebook, click here for instructions.
To receive cards and materials, please send us information below:
Thank you for your kindness and support! If you need assistance, please contact Mary at 650.665.7559 or mconvento@cfri.org